The Best Kitchens of 2021
When it came to kitchens, designers were cooking with gas this year.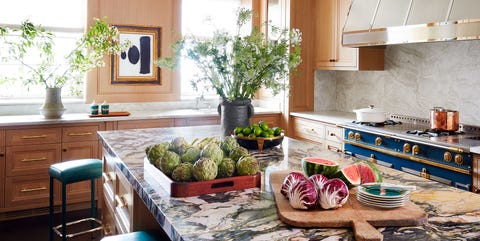 The all-white kitchen may be a classic, but it was an endangered species in the design world in 2021. In its place: color, glamour, and razzle-dazzle details from coats of emerald lacquer to hand-poured terrazzo floors and custom chandeliers. If we had to psychoanalyze the trend, we'd conjecture that months (turning into years) of time spent at home—and home kitchens where chilly ranges were suddenly fired up to produce everything from sourdough loaves to homemade gourmet meals—might have inspired many to up the ante on the design of the most used space in the house. Here are some of our favorites.