13 Sophisticated Kitchens with Black Cabinets
It's time to embrace the dark side.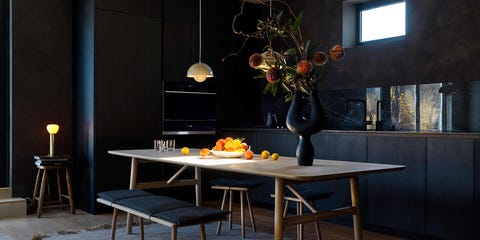 Want to give your kitchen a quick face-lift? We'd recommend starting with a fresh coat of paint. Dousing your cabinets in a newer, sharper color can immediately transform this space—an all-important one for families and frequent entertainers—into a Top Chef–worthy room. These days, green has exploded in popularity for kitchen cabinets, but we say there's something timeless and sophisticated about a black cupboard. Whether it's a matte charcoal or a glossy jet, these deep hues will add another layer of drama to your space, making other colors like red, blue—or yes, that much-celebrated green—pop even more.
"Black cabinets are urbane, sophisticated, and sexy," says interior designer Oliver M. Furth, who cooked up a kitchen with dark, high-gloss cupboards for a couple in Beverly Hills. "This particular kitchen had been dark and depressing and was never going to be a bright white kitchen. Instead of fighting it, we listened to the room and went with this vibe."

If you're ready to take the plunge, here are 13 of our favorite kitchens with black cabinets, from a family home on Puget Sound to an open-air residence in the Bay Area.