15 Galley Kitchens That Will Make You Want to Downsize
Turns out ship shape is the best shape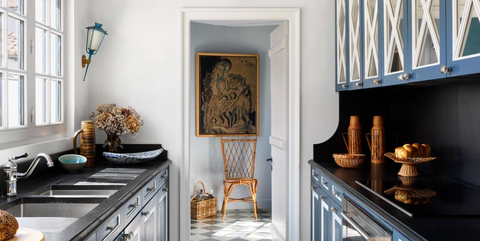 It's not up for debate: There's more to a great kitchen than the delicious, mouth-watering meals you make in it. As one of the most frequented areas—if not, the most—of your home, your kitchen deserves to look just as good as the rest of your home. However, before you choose an eye-catching backsplash, illuminating light fixtures, or the perfect shade of paint, you'll need to think about your kitchen's layout.
When it comes to kitchen layouts, the galley style often gets a bad reputation for being constricting and cramped. But, in reality? A galley kitchen is full of inspiration—you just need to know where to look. To help, we've culled the archives and asked the professionals how to make the most of the galley kitchen. Whether your style is traditional or contemporary, or your project low-lift or a full-blown, there's something below for every space.
What is a Galley Kitchen?
Though galley kitchens traditionally refer to cooking spaces in planes, trains, and boats, they have been reimagined for residential spaces too. "[They] have always solved the question of how to house a kitchen in a small dwelling, so they are still desirable and popular in urban settings where we live in smaller footprints," explains Sarah Sargeant, principal of New York-based firm Cochineal Design. Unlike other kitchen layouts—which often have freestanding appliances—galley styles have their ovens, dishwashers, fridges, and microwaves built into the design so they don't compromise on counter space.
Galley kitchens are ideal for small spaces, but they do run the risk of feeling a bit claustrophobic. Fortunately, Sargeant has a suitable solution. "We love to use a mix of upper cabinets and open shelves to break up the monotony," she shares. "There are many ways to jazz a galley kitchen up, you just have to think beyond white cabinets and subway tile!"

Go ahead, keep scrolling for the very best galley kitchen ideas to create a culinary space that's equal parts stylish and savory.