7 Surprising Ways Halston Changed Interior Design Forever, According to the Director of the Hot New Netflix Series
From his modernist townhouse to his minimalist color schemes (and turned-around books!), the fashion designer's most enduring legacy may be his talent for decor.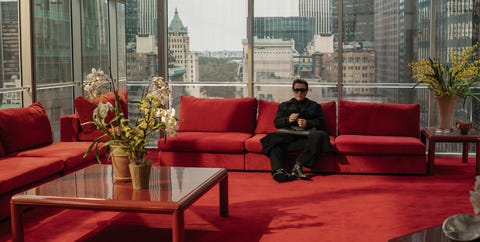 Atsushi Nishijima/Netflix
Netflix's Halston series has fashion and design aficionados obsessed—for the clothes and glamorous 1970s scene, of course, but also for the pitch-perfect recreations of Halston's homes and ateliers. If the show's sets feel authentic, it is in large part due to the extensive research director Daniel Minahan did into his trendsetting subject, who is played in the series with perfect hauteur by Ewan McGregor.
A former journalist turned director and writer (his credits include I Shot Andy Warhol and episodes of Deadwood and Game of Thrones), Minahan spent 20 years trying to get his pet project off the ground. During that time, he visited all of Halston's former homes and offices and interviewed every eyewitness he could find—including Paul Rudolph, the modernist architect behind Halston's midcentury townhouse on East 63rd Street, the setting for his legendary parties, where he is said to have served caviar, baked potatoes, and cocaine to friends like Liza Minnelli, Andy Warhol, and Elizabeth Taylor.
For Halston, designing the perfect backdrop was essential to the allure of his brand. We asked Minahan about Halston's flair for decor, which he recreated—alongside Oscar-winning production designer Mark Ricker—for the show's sets.
1
His Townhouse Was the O.G. Influencer Backdrop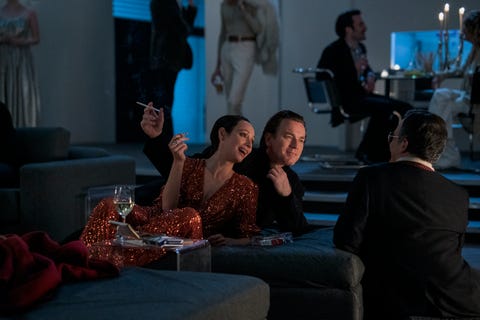 Atsushi Nishijima/Netflix
In 1974, Halston bought a striking residence: a 19th-century carriage house on the Upper East Side that architect Rudolph had turned in the 1960s into a stark modernist townhouse with white walls, steel beams, a 32-foot-high living room and a floating staircase. The interior remains so iconic that Mr. Cool himself—the fashion designer and film director Tom Ford—bought it and is restoring the staircase to how it looked in Halston's day.
Minahan sought out Rudolph before his death in 1997 to ask him about the project and learned that Halston himself had saved the house.
"I went to Rudolph's home on Sutton Place and he spoke glowingly of Halston," Minahan says. "Rudolph had built the townhouse for a Texas family who had changed so much about the design. When Halston bought it, he employed Rudolph to restore the house to his original intention. He put everything back. It was Halston who had the idea of adding industrial gray carpeting and the bamboo garden outside, which we approximated as close as we could. We found a beautiful house in Red Hook, Brooklyn, that belongs to an art dealer. Mark installed the floating staircase and put in a sunken living room and galley kitchen. It was a really beautiful approximation of the real thing."
2
He Pioneered Haute DIY (with the Help of Angelo Donghia)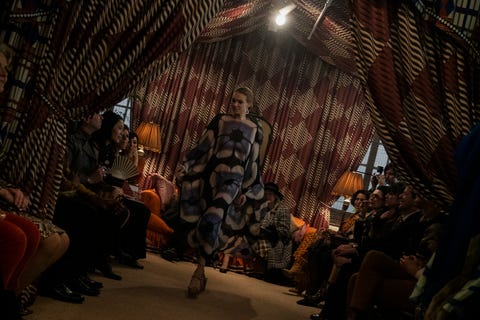 The series depicts Halston's first studio, a raw, brick-walled building on the Upper East Side that the fashion designer furnished with sisal rugs, white Parsons tables, potted palms, and a king's ransom of white orchids. But it was his friend, the interior design superstar Angelo Donghia, who created the backdrop of Halston's first fashion show featuring a collection of hand-printed caftans (previously a milliner, he had launched his career when Jackie Kennedy chose one of his signature pillbox styles).
"Halston and Donghia shared a house on Fire Island for years, and they used to go on vacation together with their mothers," Minahan says. "Donghia was at the peak of his career and had decorated the private rooms at the Met. For his studio and fashion show, Halston had grand ideas, but he didn't have much of a budget. So out of necessity, Donghia went to the fabric district in New York and bought the cheapest batik fabric he could find, and then draped and tacked it all up like a tent. It was pattern on pattern on pattern—the rich hippie look. It's one of my favorite sets because it was so resplendent and not very well known."
N.B.: Halston's former colleague and muse Tiffany & Co. jewelry designer Elsa Peretti later took over Halston's penthouse studio and used it as her New York apartment until shortly before her death earlier this year.
3
He Made Minimalism the Height of Chic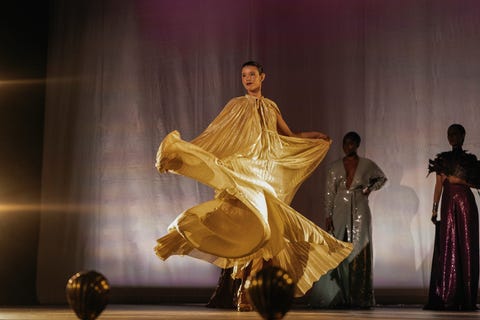 Atsushi Nishijima/Netflix
After his bohemian caftan phase, "Halston became known for his very rigorous minimalism," Minahan notes. "In fashion, he stripped away all the buttons and zippers and used only one seam. His clothes were beautifully engineered, and he brought that same aesthetic to his interiors. He was very influenced by Elsa Peretti's personal style, which was very simple, but also took his cues from the art world. There were artists in the 1960s and '70s like John McCracken and the color field painters who were doing beautiful minimalist work."
4
He Designed Rooms to Flatter Their Occupants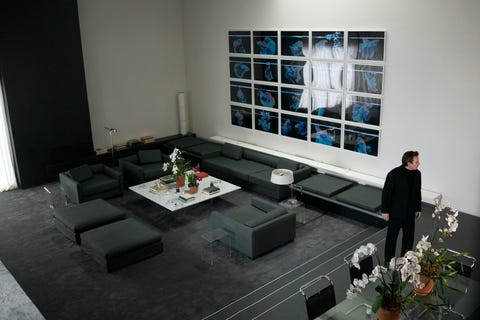 Atsushi Nishijima/Netflix
Halston's minimalist interiors had a cultural influence that still feels relevant and fresh today—probably because they make the people inside them look their best.
"It was interesting shooting the townhouse scenes; I would tell the camera operators, 'Don't be afraid of negative space. Use the white walls,'" Minahan says. "Halston wanted his home to show off the people in his life to their best advantage. He was also very conscious about good lighting and comfort: He covered his banquettes in gray wool jersey, which was easy to live with. When you have a neutral space that is white, gray, and black, everyone is going to look great in it. And he was always trying to create a house that felt like a home for his family—his creative family. He wanted to show them off to their best advantage."
5
He Used Red as a Neutral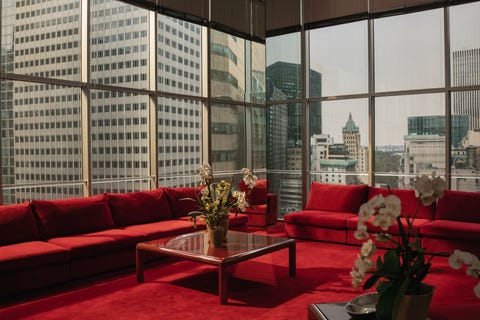 Atsushi Nishijima/Netflix
Many scenes in the Netflix series show Halston's office at the Olympic Tower, a glass-walled space on New York's Fifth Avenue overlooking St. Patrick's Cathedral. His studio was on the 21st floor of an ultramodern skyscraper built in 1973 by Skidmore, Owings and Merrill (SOM). He decorated the space with red lacquer tables, banquette-style sectional seating, and wall-to-wall red carpeting from Karastan (one of his licenses), custom-designed with a pattern of interlocking Hs.
"Halston controlled every aspect of his world, and the Olympic Tower office was a great example," Minahan says. "The floor-to- ceiling glass walls were intimidating and had a vertiginous effect: You felt like you were going to fall out. And so Halston installed a Plexi railing all around the space to define it and then grounded it with that color red."It was hard to determine what exact shade of red he used from the pictures. But by chance, I have friends whose father made the lacquer furniture for the space, and they remembered it and even still had some of the Parsons tables. That's how we figured out that the furniture was a kind of cinnabar shade and the carpeting was more of a vermillion. We recreated the set on a soundstage and matched it as close as we could."
6
Blame Halston for the Backwards Book Trend (and Sisal Rugs and Duck Canvas)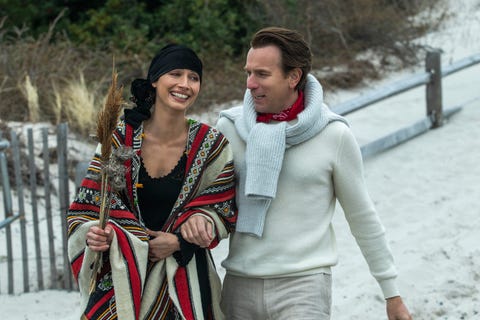 One of the most beautiful homes in the Netflix series is Halston's compound in Montauk on Long Island. He rented the property from its owners—Andy Warhol and Paul Morrissey. Minahan visited the home when Morrissey still owned it. "Warhol rented it to Halston because he liked the income," Minahan says. "Halston completely redecorated it. He put in his signature banquettes and had everything upholstered in white duck canvas. One thing that was remarkable were the bookshelves. Halston didn't like seeing all the different colors of the bindings. He liked everything to be very tonal and wanted a placid look to the place. So he turned all the books around backwards with the pages facing out. So all you saw were the raw ends of the books."
7
He Was a Lifestyle Brand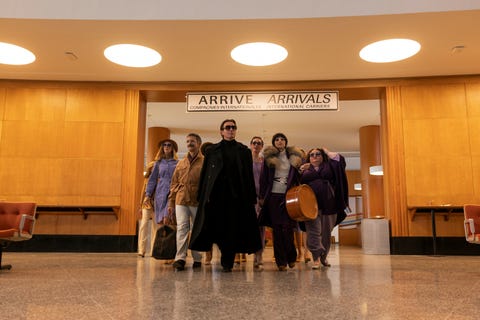 Atsushi Nishijima/Netflix
Halston's fame was built on his sleek fashions and his perfume (the series shows how Peretti's sculptural design for the glass bottle was a key ingredient in its success). But while he never had his own furniture line, the designer did delve into the home world with his many licenses. These ranged from the carpets he designed for Karastan to linens and towels. He also designed airplane seats for Braniff Airways in beige and taupe, and clad the flight staff in jersey wrap dresses, polyester pantsuits, and Ultrasuede coats. "He marketed lifestyle and had a huge influence on culture and design," Minahan says.