25 Kitchens That Prove the Timeless Appeal of Blue Cabinets
"Think of it like a pair of jeans."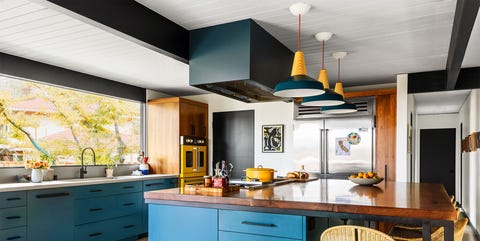 If you've resolved to change up the look of your kitchen this year, painting your cabinets a new color is an excellent (and relatively low-lift) way to freshen things up. Choosing just the right shade, however, can be challenging. Perhaps you're looking to deviate from a classic, all-white look, but 2022's maximalist kitchen trend isn't quite your taste either. Enter blue kitchen cabinets, one of the most versatile and time-tested ways to give your cooking space some serious star power.
There's no doubt that the color has been having a moment: Benjamin Moore named a soothing shade called Aegean Teal its 2021 Color of the Year; the year before, Pantone named Classic Blue as its everywhere shade. But unlike other "it" colors (here's looking at you, Digital Lavender), blue has long been viewed as a classic, and with a veritable rainbow of tints and shades out there, it's a hue that can be amped up or down to suit your style (for all of you midnight snackers out there, blue also has the benefit of being an appetite suppressant). "Blue can really be a neutral," insists Jessica Davis, founder of the Atlanta- and South Orange, New Jersey–based firm Atelier Davis. "Think of it like a pair of jeans."
In one of Davis's recent projects—the restoration of a classic Joseph Eichler house in California with architect Gustave Carlson—the design team and client were drawn to Farrow & Ball's steely Hague Blue in the kitchen. But depending on your unique lighting conditions and space, you might opt to go for an electric Yves Klein–inspired blue, a barely there periwinkle, or (the best of two color trends, in our opinion), a rich blue-green. To complete your blue kitchen, Davis advises accentuating the kitchen cabinets with blue surfaces, whether it's flecks in terrazzo flooring or veins in a marble countertop. From there, she will contrast "the coolness of blue with warmer colors like a yellow oven or the warmth of walnut."
See below for 25 fabulous azure kitchen cabinet ideas—inspiration is bound to strike like a bolt from the blue.